STEEL, Saint Etienne (France)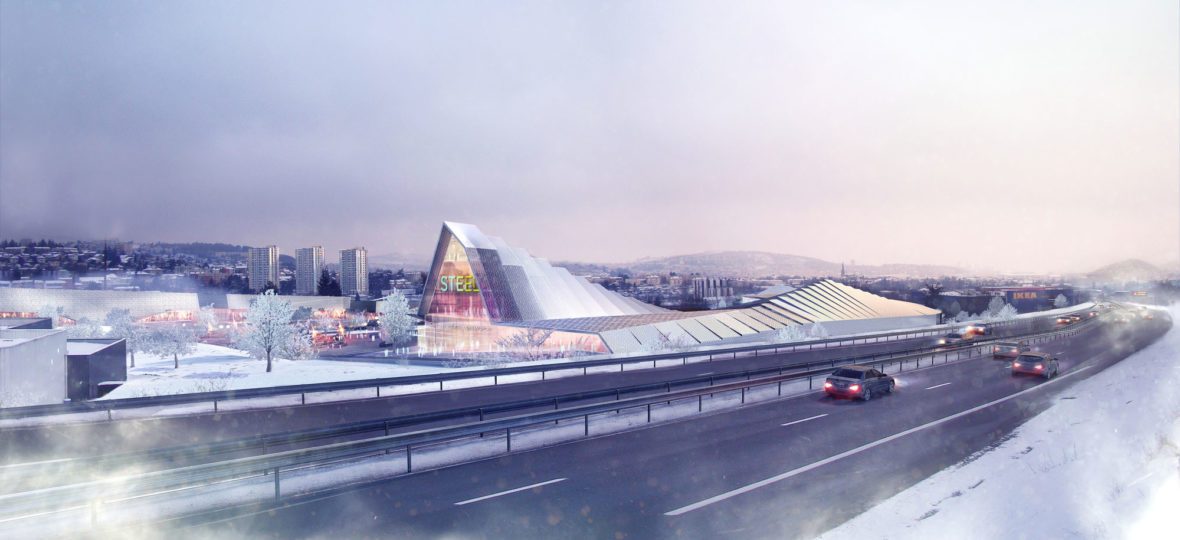 Laying the foundation stone
The team composed of Apsys, SUD, Atelier Rivat and Base Paysages alongside the City of Saint Etienne and the Local Planning and Development Authority of Saint Etienne, laid the foundation stone for this future iconic shopping and entertainment centre.
Scheduled for completion in 2019, this 70,000 m² open-air shopping centre will offer users a living space with 37,000 m² of landscaped grounds featuring exercise paths, playgrounds and pools.
STEEL will offer shops, medium and large areas, as well as restaurants and a hotel.
This powerful piece of architecture with 6-metre high glass façades, completed with a 30 000 m² mesh roof created by designer Joran Briand, will be the commercial icon at the entrance to the city of Saint Etienne.
The environmental performance will aim for BREEAM certification and the BiodiverCity label.
Client : APSYS
Leader of the project management consortium : SUD ARCHITECTES
Architectural design : STUDIO JORAN BRIAND
Edition Design Furnishings : ÉSÉ
Associate architect and BE structure : ATELIER RIVAT
Landscape architect : BASE
Economist : CM ECONOMISTES
Environment : ELAN
Roads and External Works : B-INGENIERIE
Utilities : BERIM