Ilôt Lafayette Villette (France)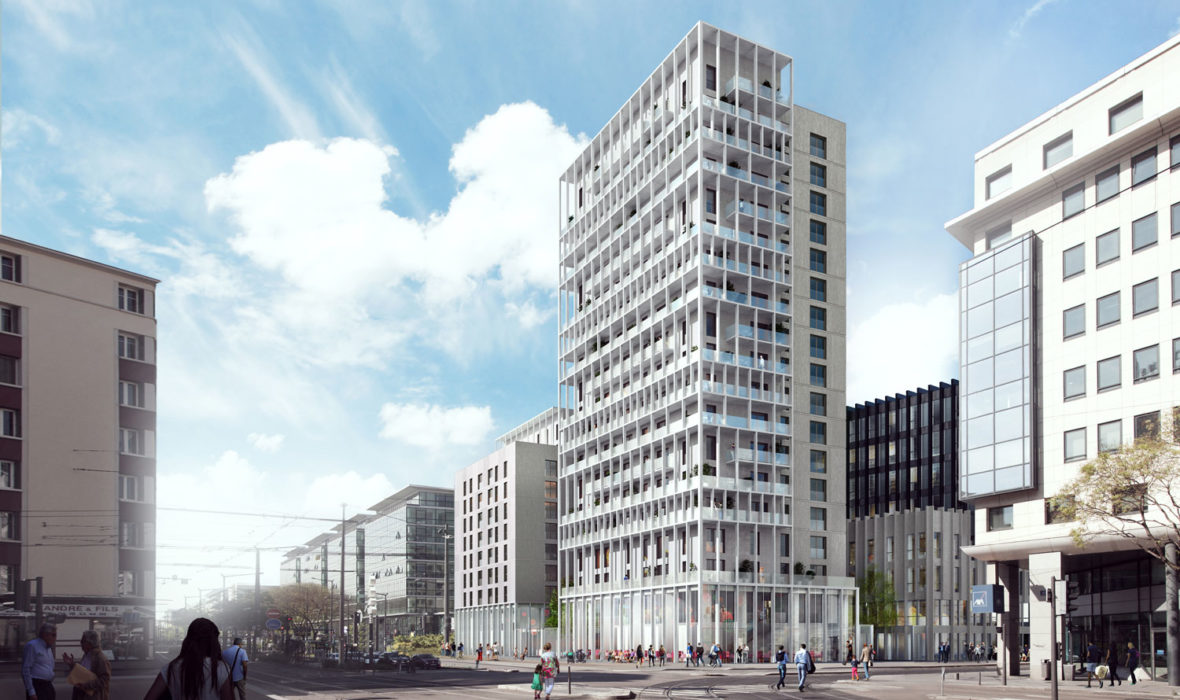 A new signal in Lyon's Part Dieu district
With the emergence at the crossroads of two 57 m high streets animated by multiple forms of public transport, the site heralds the Part Dieu business district.
Located on the eastern part of Ilot Lafayette-Villette-Bonnel, the project includes housing, accommodation for young professionals, businesses and a Diocesan Centre.
Better than your average ground floor, two generous levels make a solid base that distributes the various accommodation and facilities. An essential part of the urban fabric, largely made of glass, its coherent structure favours windows, shops and activities; moreover, it ensures pedestrian continuity.
Two housing buildings mark the alignment and establish the corners of the base plot. In the south east, one building consisting of the base plus 9 floors provides accommodation for young professionals above a Diocesan Centre, while in the north east, another building consisting of the base plus seventeen levels accommodates businesses with housing on the upper levels.
The highest building is split by a geometric unitary frame including balconies, loggias and commercial windows. The rhythm of the mesh creates a pattern which plays with the perception of distance. The variations in layout highlight the ranges of the foundations and coping.
On two levels, above the shops, Soho-type buildings will house workshops, duplex housing, and private practice offices, ensuring the transition between the activities at the base level and the accommodation in the towers.
PROGRAM : HOUSING, SHOPS AND SERVICES, DIOCESAN RELIGIOUS CENTRE
Client : OGIC
AREA : 10,000 m² including:
HOUSING : 7,950 M2 FLOOR AREA (5,500M2 IN ELEVATION AND 2,450 M2 IN SOCIAL)
SHOPS AND SERVICES : 1300 M2 USABLE AREA / DIOCESAN RELIGIOUS CENTRE: 750 M2 FLOOR AREA
TIMESCALE : COMPETITION / WINNER 2016 / Completion
TEAM : SUD ARCHITECTES / ITAR ARCHITECTURE
ENERGY PERFORMANCE : RT 2012
Photo credits: SUD Architectes